Ardgillan park is unique among Dublin's regional parks for the magnificent views it enjoys of the coastline. A panorama, taking in Rockabill Lighthouse, Colt Church, Shenick and Lambay Islands may be seen, including Sliabh Foy, the highest of the Cooley Mountains, and of course the Mourne Mountains can be seen sweeping down to the sea.
The park area is the property of Fingal County Council and was opened to the public as a regional park in June 1985. Preliminary works were carried out prior to the opening in order to transform what had been an arable farm, into a public park. Five miles of footpaths were provided throughout the demesne, some by opening old avenues, while others were newly constructed. They now provide a system of varied and interesting woodland, walks and vantage points from which to enjoy breath-taking views of the sea, the coastline and surrounding countryside. A signposted cycle route through the park since June 2009 means that cyclists can share the miles of walking paths with pedestrians.
The Lady's Stairs
This is a pedestrian footbridge which crosses the Balbriggan/Skerries Road and the Dublin – Belfast Railway Line, which runs along the north-eastern boundary of the demesne. It was constructed by the Dublin and Drogheda Railway Company and it links the demesne to the beach at Barnageera. The name derives from reports that the ghostly figure of a "Lady" is seen here from time to time. 
The Ice House
While site works were proceeding in 1985, an underground passage was discovered, which turned out to be the long-lost Ice House, the precursor of the modern day refrigerator. In winter ice would have been collected from frozen lakes and rivers and packed into the chamber so as to provide a cold store for meat, dairy products, wine plus other perishable commodities to be used later in the year.
The wild flower meadow comprising of the 26 acres on the far western side of the demesne has matured significantly in the last 20 years and is a haven for wildlife activity.
Come and Visit! We would love to see you.
Rose Garden
A collection of roses has been planted; species and old varieties around the perimeter, climbing roses on the pergola and "Hybrid Ts" and "Floribundas" in the formal beds. The result gives a lovely display of summer colour.
Walled Garden
The Walled Garden was originally a Victorian-styled kitchen garden that used to supply the fruit, vegetables and cut flower requirements to the house.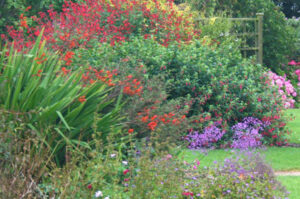 Ornamental Gardens
The Trellis Garden includes a wide range of semi-tender plants that can survive outdoors at Ardgillan. This section also includes a sundial, a raised scree bed and has a good collection of autumn owering plants.
Seasonal Gardens
This year Ardgillan Castle will be holding more outdoor events with a keen focus on the beautiful and meticulous gardens that we have at Ardgillan gardens.