Tony Gunning and Colette Cronin
'I suppose if a man has something once, always something of it'
Ernest Hemingway, For Whom the Bell Tolls
In Something of it Remains, the complex relationship between humans and the structures they inhabit is brought into focus. The work explores the distorted and uncanny nature that we share with buildings. By exposing and interrogating the impact these buildings have on us, both as individuals and as a collective, questions of decay, transition, identity and attachment are asked of the viewer. Cronin and Gunning use images of structures in various states as a vehicle to discuss our connection to the world, both natural and human-made.
Something of it Remains pulls together non-linear links and uses metaphorical analysis to propose a counter-commentary, both macro and micro, to contemporary ideals of what it means to own a home. The work proposes that the cyclical nature of existence, and the impermanence of life itself, demands a critical reassessment of the human need for security and the spaces we inhabit.
Cronin and Gunning's work shifts and pulls, deconstructing concepts and preconceptions, before settling in a place where identity, memory and mortality is interlinked. As a community, Ireland has a complicated relationship with the concept of home. As immigrants, settlers, traditionalists and radicals, there is an imagined reality that runs through us. Something of it Remains asks us to sit with this reality and to question its relevance to a modern community struggling to keep its people sheltered. These structures are threads that are woven into the fabric of our existence. They arrive at a crossroads, unsure yet beautiful. The viewer is confronted, opposed, challenged. With block and steel, a house can be built. What comes after, when time has stripped the life from it? What is it then? Something of it Remains asks this simple question.
Tony Gunning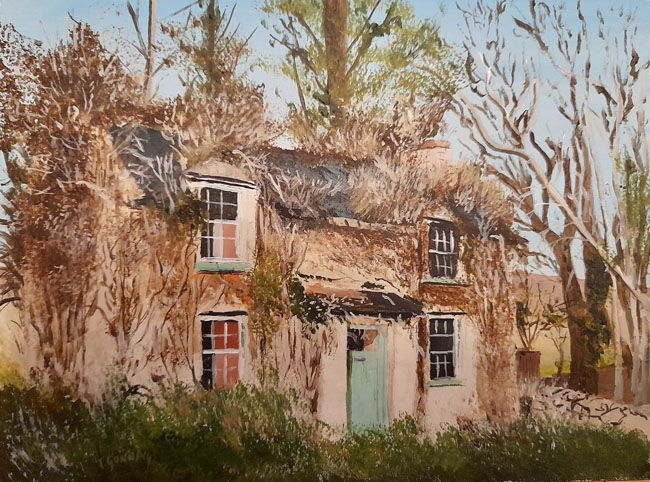 Tony Gunning is an established Irish artist who has exhibited widely, including fourteen solo shows and numerous group shows, including RA, RHA and RUA annual exhibitions. His paintings are included in many corporate and private collections worldwide.
He received an Arts Council Agility Award in 2022. He won the Curator's Award and the Bank of Ireland Emerging Artist Award at EV+A in 2007. He has exhibited solo at the European Parliament, Brussels and was part of the Irish representation at the Florence Biennale 2005.
Colette Cronin
Colette Cronin graduated with a BFA from the Crawford College of Art & Design in Cork, Ireland in 2010 and has a Post Graduate Diploma from Goldsmiths University in London.
She has presented her work in numerous exhibitions including a solo exhibition in Talbot Gallery and in group exhibitions in IMMA, Queen Street Studio Gallerys, Triskel Arts Centre and Lavit Gallery. Her work is in several public and private collections including the Office of Public Works, MTU Cork and St John's College Cork.