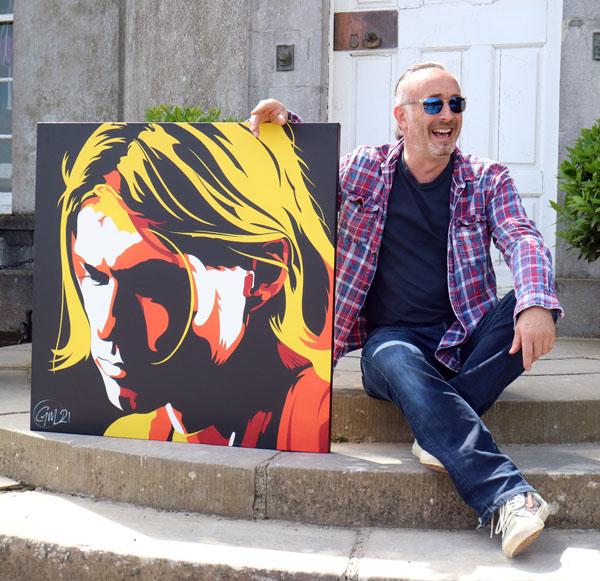 Glenn Matthews – Pop Artist
Originally from the leafy suburbs of Belfast my, somewhat, unusual career has taken me from playing drums with Preacher John in The Marquee Club, London, to designing boxes in the packaging industry, heading up the print and packaging department in Tesco Ireland, to running my own bar in Spain for 10 years and now, finally, doing what I love as an artist with my own studio/gallery in Ardgillan Castle creating popart inspired portraits of icons from the world of celebrity.
My work has been described as:
"Precision Impressionism"
….with the author going on to say:
"You're impressionistic as you break figures down into blocks of colour…close up almost abstraction but as you step away the blocks flow together to form your subject in the most precise way possible.
A modern day technical Monet"
 My collectors include Donal Gallagher, brother of the late, great Rory Gallagher, and Steve Garrigan, Kodaline front man.
I have 2 album covers under my belt with Rory Gallagher's The French Connection being a particularly proud addition to my portfolio.
Inspiration comes from many sources but in particular Terry Bradley, Belfast artist, for his incredible story and his journey over the last 30 years and Mr Andy Warhol for his incredible imagination, his boldness, his use of colours and his phenomenal marketing skills.
I'm proud to say I have pieces all over the world and continue to develop my craft with local galleries carrying my work and representation in Milan, Italy.
Thank you for being a part of my journey.